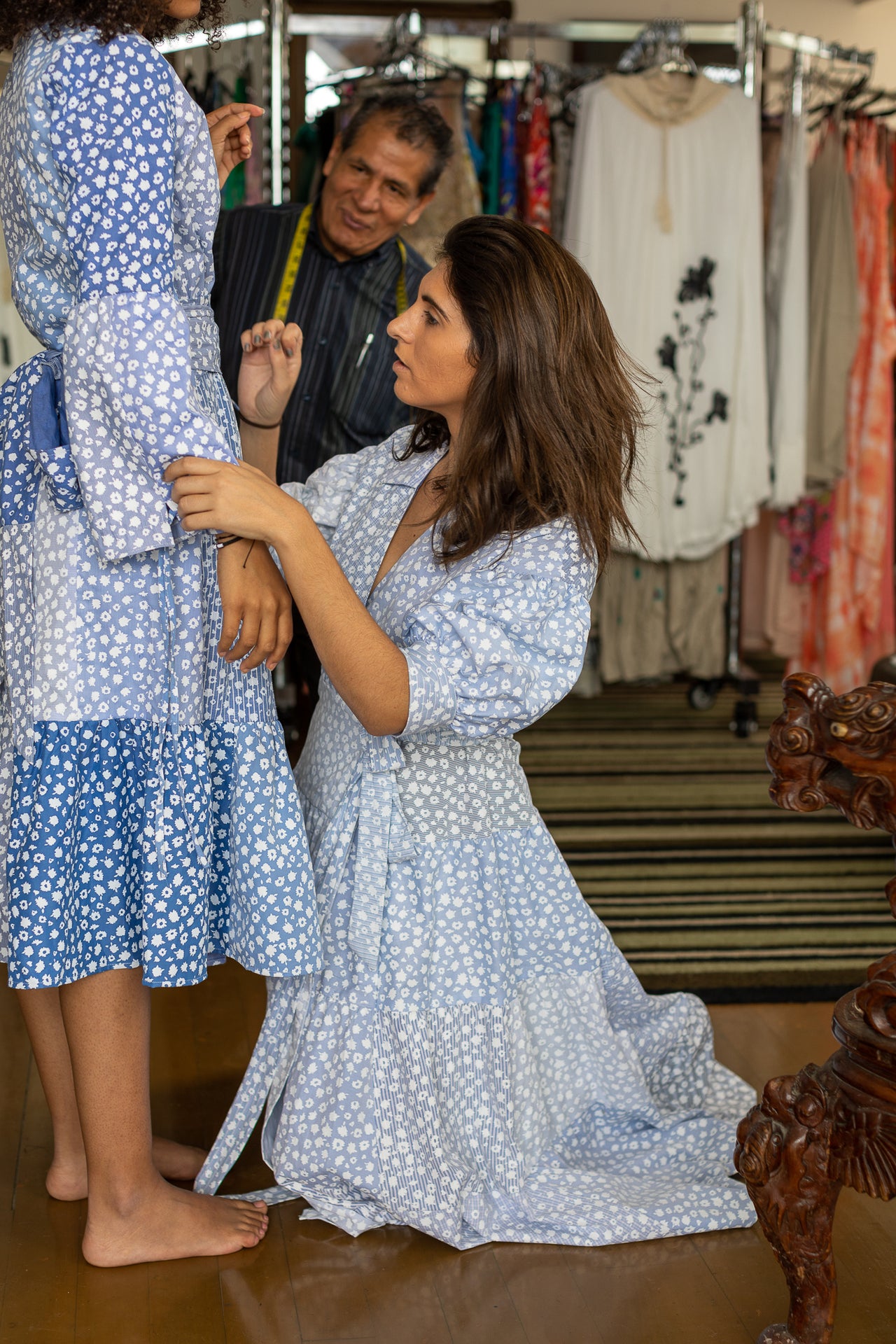 WHO WE ARE
LOTI is an Upcycling Design Studio based between Lima, Peru and Los Angeles, CA. We are taking part in the Upcycling Revolution by reusing materials that would otherwise fill landfills and giving them a much-deserved second life.
LOTI was founded in the spring of 2021 with the intention of challenging textile waste culture, while supporting the work of Peruvian craft men + women.
We exclusively source + reuse natural fibers. To date, we've Upcycled the following textiles:
100% cotton

100% alpaca wool

100% merino wool

100% leather

100% silk
We're working on making every part of our business increasingly responsible. We plan to address sustainability through the life cycle of our product, down to our unique minimal waste packaging.
As a brand that creates clothing + other textile items, we want to acknowledge that making any "new items"* is inherently unsustainable. However, we believe we are doing some good by creating handcrafted, beautiful garments out of materials that would otherwise become waste.
*"New items" is in quotations, as the pieces are new, but the materials used to make them are not.
CORE LOTI TEAM
LOTTIE BERTELLO, Founder + Designer

Lottie grew up in Lima, in a Peruvian- Italian household, and moved to South Florida with her family at age 15.

She taught herself how to sew at age 12 and knew she wanted to work in creating clothes since she can remember. Shes worked as a designer at brands including: Vince, & Other Stories and Paige.

Prior to launching LOTI, her work was featured in publications including: TEENVOGUE, WWD, NYLON Magazine, Fashionista

She's currently the Textile Specialist for the Peruvian Government in the West Coast of the USA and also works as a freelance Textile Designer and a Design & Production Consultant.
NORE ENSIZO, Head Seamstress + Master Tailor

Nore Ensizo is our head seamstress and the heart of LOTI. He's been a master tailor for 40+ years. He truly does it all, from drafting patterns to creating our samples to size grading, hes involved in every step of our small batch production process. On top of that, he leads and teaches his team how to make our pieces. Nore works alongside his wife, brother in law and occasionally, his brother.

Nore currenly lives in Lima, Peru.
LUZ CHAFLOQUE, brilliant seamstress

Luz Chafloque is our Accessory queen. She is part of the design + development of all accessory items, including our best selling patchwork bucket hats (collection 001) and our silk tie pieces (collection 002 and current).

Luz sews at home in order to stay safe and take care of her daughters.

She owns a beautiful vintage singer sewing machine, which has been in her family for 3+ generations.